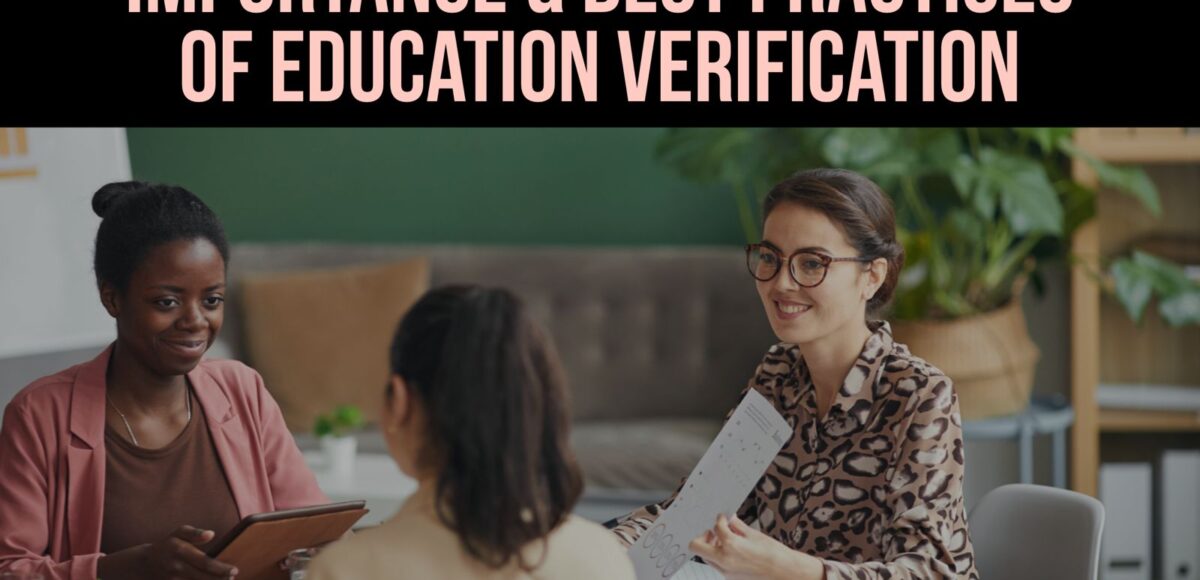 Importance and Best Practices of Education Verification
As an employer, it is your responsibility to recruit worthy talent to your organization. How do you do? By conducting a background check on the candidate. Education verification for employment is an integral part of background check to weed out cases of fraud. Just to put it into perspective, 36% of respondents admitted to lying on their resume, according to a ResumeLab survey.
We believe this is a substantial reason to understand the importance of education verification and its best practices.
Let's start.
What Is An Educational Background Check?
A lucrative job offer can attract the eyes of thousands of prospects. While some are deserving, others can create a few sections of their resume to fit in. Background checks help employers verify applicants' education, certifications, and educational background. This way, they can identify any discrepancies in the application and take action on it.
To help employers, consumer reporting agencies (CRAs) conduct background and education checks. They find out if the candidate has earned their high school diplomas, professional certifications, or undergraduate/graduate degrees.
Therefore, if a candidate inflates their qualifications to be hired, you will know about it. As a result, this will help filter out resume fraud and focus on hiring the right talent.
Now, the two important points to note are:
When it comes to verifying education, there are no restrictions, according to federal FCRA guidelines. This means that consumer reporting agencies can verify educational claims throughout the claimant's lifetime.
The length of an applicant's educational background check depends on the method you choose. For example, if you run it yourself, it may take a long time. You will need to contact all of the institutions the candidate has claimed to have attended and then wait for their responses, which can take weeks. Also, you may miss information in some cases. For example, if the candidate has not included a particular institution in their resume. To make it easier for you, consumer reporting agencies are there. If you hire us, we have state-of-the-art technology to complete background checks in less time and provide a remarkable user experience.
Why Should You Perform Background Check While Recruiting?
Applicants must hold a degree to be considered for any entry-level job. To gain ground over others, some candidates may spruce up their qualifications and end up landing the job. Since educational background gives employers insight into a candidate's abilities, skills, and level of knowledge, false details can cloud an employer's judgment of the individual candidate. As a result, the company may hire unqualified employees, which can harm its business and reputation.
By completing the education verification process, you get the following benefits:
No unworthy hiring by screening qualified candidates
Able to save resources on the hiring process
Candidate character test
Able to assess candidates' courage by analyzing grades in relevant subjects.
Therefore, to avoid any costly situation for the organization, employers should perform education verification for employment as part of a background check to identify qualified, capable and trustworthy talent.
What Does An Education Background Check Reveal?
In this background check, the educational claims made by an applicant are checked. This part of the education verification process includes the verification of the school or universities attended, the period of academics mentioned by the candidate and the degrees (bachelor or master) obtained. While these are some basic checks, agencies can further check the top honors, fields of study, and GPA, if needed.
What Are The Best Practices From A Legal Perspective?
While employers may find themselves in the middle of an ocean while performing a thorough background check, it is fair to hire a CRA.
Now, CRAs must follow all federal regulations and local laws while performing their duties to help employers make the right hiring decisions. The Federal Trade Commission enforces the FCRA (Fair Credit Reporting Act). The law lists requirements that employers need to be aware of.
Some of the notable points under FCRA are:
Written Disclosure: Employers must inform applicants that they will conduct background checks
Consent: Prior to conducting background checks through ARCs, employers must obtain consent from each applicant.
Sharing of results: Once an FCRA-certified CRA has completed the background check, the employer must share the results with the applicant and inform them of their rights under the FCRA.
Follow the adverse action process: If the employer receives adverse information that could influence their hiring decisions, they must comply with the adverse action process under the FCRA. For example, if you find a discrepancy after the background check and decide not to hire the candidate, you must send a Final Notice of Adverse Action to the candidate or employee.
In addition to this, employers should also be aware of the regulations enforced by the Equal Employment Opportunity Commission or EEOC:
Anti-Discrimination Laws: The EEOC enforces anti-discrimination laws.
Treat everyone the same: Conduct a systematic background check on every applicant, regardless of race, national origin, color, gender, and other assigned characteristics.
Comply with local laws: Depending on where you are employed, you must comply with local laws.