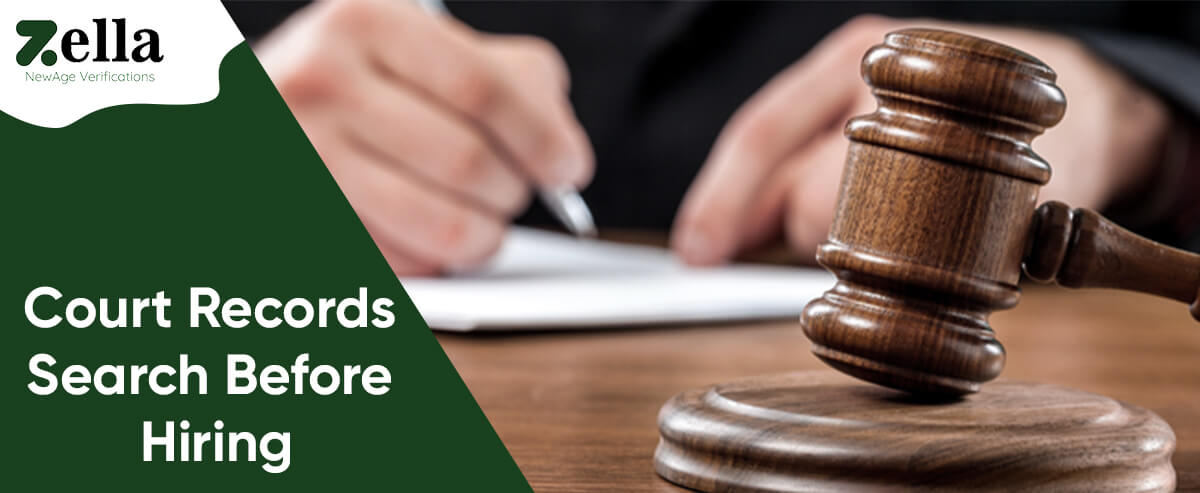 Signs You Should Conduct Court Record Search Before Hiring
Companies are constantly looking to add new positions and hire employees who are experts in those fields to fill those positions. When a new position is opened, multiple candidates apply for it, and it is difficult to judge who is genuine. Recruiting fraudsters, embezzlers, people connected with organized crime, rapists, etc., are some of the crowds you need to steer clear of. In these cases, a court record search is beneficial. It investigates the background of employees pre-hiring, understanding if they are good enough for the organization. 
Multiple platforms offer court record search services, like Zella. They provide unbiased and accurate results of the individual to spare you awkward and wrong recruiting situations.
Why is Court Record Search Important?
Every company wants to have a safe and communicative work environment. To achieve this, hiring people with a clean record is crucial. This goes for people looking to hire people in financial and public sector positions. There are multiple reasons why a court record search is essential:
Court record searches help people know the background of the individual. People associated with organized crime, gangs, fraudulent activities, and criminal activities are dangerous for an organization. A court record search identifies these individuals, effectively helping the company be more alert. 

In addition to criminal activities, any individual might also be an offender or has a past record of employee harassment, etc in their previous place of work. A proper search before hiring a candidate eliminates the risk of taking in people who are not fit to be a part of the organization.

A court record search also enlightens the company regarding their applicant's civil actions which greatly helps the HR department to shortlist candidates. 
Key Elements of Zella's Services
Zella Information is an excellent place to start with background screening for court records for your candidates. The process is streamlined and the team is proficient to carry on the entire verification smoothly. Your applicant might be promising on paper, however, if they are regular offenders, then it is better not to hire them. Zella helps in conducting Court Record Searches to help you bring in the right candidate by-
They check for court case information that ensures that the applicant is clean with no charges against them or is not a part of an ongoing court case. The specifics of the charges are taken into account before the applicant is chosen for further rounds. 

They check into the online court case status list database to check if they find a match with the applicant's credentials and if they are associated with any criminal activities. 

For companies that handle finance projects, it is important to choose candidates with proper financial backgrounds. Applicants who are deep in debt, have poor credit scores, etc should not be chosen as they might prove to be dangerous to the organization.

Candidates who are involved in shady businesses not only give a financial blow to the company but also affect the company's reputation. A thorough court record search helps in shortlisting those candidates that have a clean name. 

The absence of a criminal charge doesn't necessarily clear out a candidate's name. They can be embroiled in legal litigation even if they do not have a court case going on under their credentials. A court case information check helps in hiring those who are clean of these issues. 
Conclusion
Getting an ideal candidate for your organization can be difficult, especially when there is a risk of fraudulent papers and degrees. Criminal cases, shady businesses, and fraudulent works of candidates should be properly looked into before they are hired. Companies like Zella Information are proficient in handling these matters, helping clients understand which candidates are the best to consider for their organization.