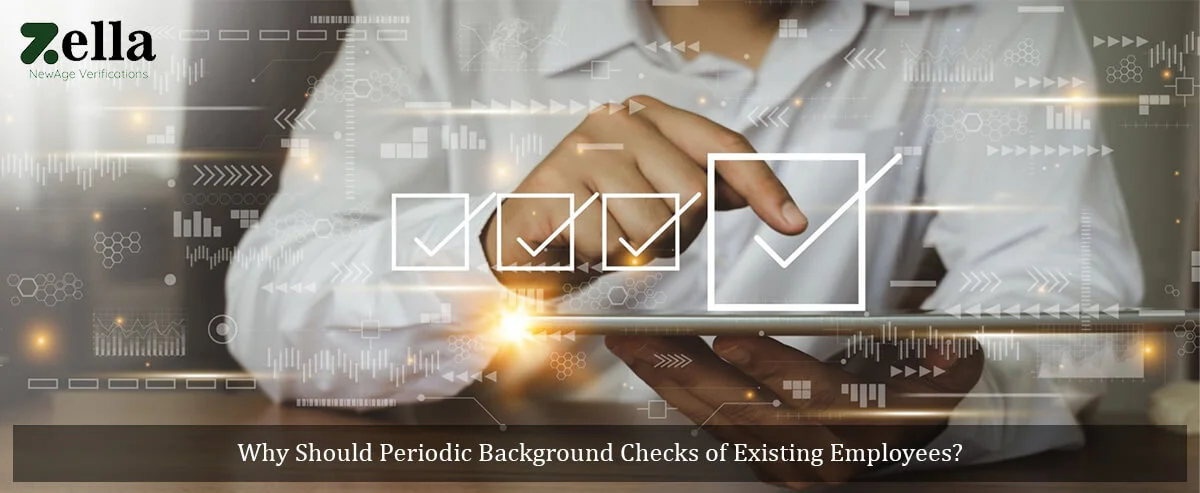 Why Should Periodic Background Checks of Existing Employees?
Background checks are a standard procedure during the hiring process. However, companies sometimes also wish to conduct background checks on current workers. Is this possible? The answer is YES! The concept of continuous background screening with the help of a professional background screening company has also gained popularity in recent years, as an increasing number of employers consider the benefits of doing post-hire screens on their employees. 
The basic background check is one of the most active and effective tools in recruiters' hands. Professional BGV services not only assist in recruiting the best applicant, but also help in minimizing the risk of white-collar crimes, or workplace fraud committed by employees. Although it is legal for employers to check both potential new hires and current employees, they must also abide by the regulations. 
When To Run Periodic Background Screening?
An organization's biggest asset is its workforce. Productivity and a strong basis for the company can only be established by a skilled and experienced workforce. Every year, businesses suffer significant losses as a result of employees who act irresponsibly. A background screening company like Zella Information places a strong emphasis on regularly checking the backgrounds of current employees. It should be conducted in the situations like- 
If the employee is being looked into for misconduct or a criminal offense.

Rescreening may be required if the employee is taking on additional duties like driving for the company, having access to more classified data, or managing corporate finances. 

When an accident occurs or an employee shows odd behavior, management may choose to rescreen to rule out the misuse of drugs or alcohol.

If the employee has been with the company for a long time, new staff may be subjected to more rigorous background checks. The revised and updated standards should be applied to all current employees.

New screening may be required in order to collect updated information about long-term employees. Employee history may not necessarily dictate recent activities.
Importance of Periodic background screening
Employers must take into account the anxiety and mistrust that employees can have during a rescreening. All employees should be covered by the policy's periodic background checks, or at least those positions that require closer examination, to ensure that it is not discriminatory. The policy can be presented in a positive way, with the understanding that the organization wants to keep employees safe and the business running as smoothly as possible without negatively impacting employee morale or workplace culture. Taking BGV services from a professional is important for-
Liabilities resulting from negligent hiring:

Employers may be held liable for the conduct of their workers in a number of situations, including workplace violence, accidents, and employee theft.

Updated Screening Regulations:

It might be a good idea to hold current employees to the same standards when HR changes background screening policies.

Employees who were never screened:

Some workers may have worked with the company for so long that they were never initially examined.
Reasons Behind Comprehensive Background Screening For Existing Employees
After being hired, people often stop worrying about how their behavior might affect the workplace culture. Employers can be informed of any potential hazard the business may face from careless employees by implementing strict background verification procedures with the help of a background screening company. You should use periodic screening techniques for your current personnel for a number of reasons, including:
1. Ongoing Monitoring 
Background checks performed only once may present issues. There might be a lot of changes during an employee's five, ten, or forty years of service with a company. Furthermore, it is easier than you might believe for employees to cover arrests, court dates, and convictions. Ongoing criminal record checking and driver record monitoring, for example, might alert employers to potential concerns during a worker's employment.
2. Job Execution
Personal behaviors can significantly affect the professional world, even if people may not be aware of this. Similar to how a successful individual motivates the team, a negative employee's bad habits reduce the organization's productivity. For instance, a worker who is dependent on alcohol or drugs can start using these substances even when they are at work. The workflow and production of the company will be hampered by the resulting inefficiencies and delays in the task.
3. Screenings on Demand
Policies fluctuate. As a result, a corporation may opt to implement a new or more comprehensive screening program with the help of a background screening company. They must check both current employees and recent hires if they want this to apply to everyone.
4. Workplace Security
Maintaining workplace safety and security is critical to ensuring that focused employees work around the clock to achieve the company's goals. It is the basic duty of the employer to provide a safe workplace for their workers. Criminals have the potential to cause great harm to other employees. Employers should periodically check in on their staff to prevent any such situation from occurring.
5. Internal Hiring
When an existing employee transitions to a new position, many businesses decide to screen them as though they were new hires. When jobs have increasing responsibility, this becomes extremely crucial. For instance, a firm that provides BGV services might check the credit report of a person handling finances for the company.
6. Crimes Committed at Work
It's probably time to take professional BGV services if you discover any illegal or criminal activity taken on at work. It may have been hard to judge a person's motivations and interests at first. However, conduct a thorough background check if you suspect an employee is attempting to take unfair advantage of his position, steal proprietary information, engage in pointless debates, etc. You should always err on the side of caution.
Wrapping Up
Zella Information, a renowned background screening company in India, performs both pre-and post-employment background checks. In order to best meet the goals of your organization, our experts would be happy to assist you in implementing this project. Check out all of our screening options right now!