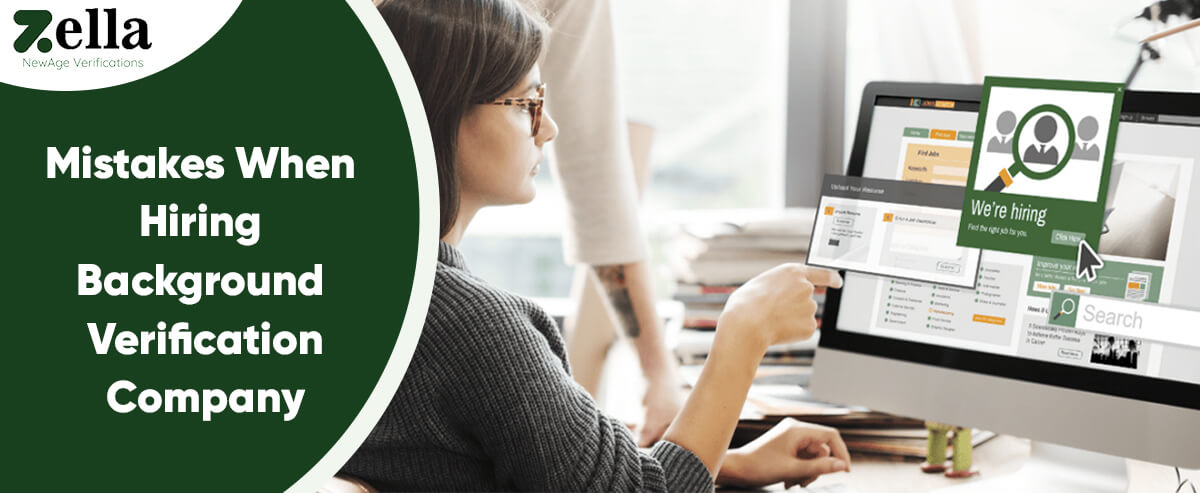 Avoid These Common Mistakes When Hiring A Background Verification Company
Hiring the right background verification company can be the difference between finding the top candidate for a job and making an expensive hiring mistake. But many companies make mistakes when it comes to vetting applicants, leading to costly consequences. In this article, we'll discuss some of the most common errors made when selecting a background verification company, so you can ensure your choices are sound and secure.
Introduction
When it comes to hiring a background verification company, there are a few common mistakes that organizations make. By avoiding these mistakes, you can ensure a smoother process and more accurate results.
What is a Background Verification Company?
A background verification company is a service that helps employers verify the accuracy of an applicant's claims on their resume or job application. This can include verifying employment history, education, criminal records, and other information. Background verification companies use public records and data sources to conduct their searches, and they typically charge a fee for their services.
Common Mistakes to Avoid When Hiring a Background Verification Company
When you are looking to hire a new employee, it is important to do your due diligence and run a background check. However, there are some common mistakes that employers make when hiring a background verification company. Here are some of the most common mistakes to avoid:
1. Not Checking References:
One of the most important things you can do when hiring someone is to check their references. This will give you a good idea of their work history and whether or not they would be a good fit for your company.
2. Not Asking for ID:
Another mistake employers make is not asking for identification from the candidate. This is an important step in the process because it helps to ensure that the person you are hiring is who they say they are.
3. Not Checking Social Media:
In today's day and age, it is important to check someone's social media before hiring them. This will give you an idea of their character and what kind of person they are.
4. Not Doing Your Research:
It is also important that you do your research on the background verification company that you are thinking about using. Make sure that you read reviews and compare different companies before making a decision.
5. Ignoring Legal Compliance:
When it comes to background verification, compliance should never be ignored. There are a number of laws and regulations in place that govern how employers can obtain and use information about applicants and employees. Ignoring these compliance requirements can lead to serious consequences, including steep fines and even jail time.
Other areas of potential non-compliance include state laws governing criminal history checks and the use of social media in screening candidates. To avoid these mistakes, work with a reputable background verification company that has experience navigating the complex landscape of background check compliance.
6. Skimping on the Cost:
When it comes to background verification, skimping on the cost is a mistake. There are a number of reputable companies that offer affordable services, so there's no need to go with a cut-rate provider. The problem with using a cheap service is that you may not get the level of quality you expect.
In some cases, these companies may outsource their work to third-party providers in countries where labor is cheaper. This can lead to errors and omissions in the reports. Also, be sure to check the company's Better Business Bureau rating and read online reviews before hiring anyone.
Why Should You hire Zella – Background Verification Company?
There are a few key reasons why you should hire Zella for your background verification needs. First, we have an extensive network of data sources that allow us to verify information quickly and efficiently. Secondly, our team of experienced investigators knows how to properly conduct background checks, ensuring that all relevant information is uncovered. Finally, we offer competitive rates and can tailor our services to fit your specific budget and needs.
By entrusting Zella with your background verification needs, you can rest assured that the process will be handled professionally and efficiently. We will work diligently to verify the information you need in order to make informed hiring decisions, and our flexible pricing options mean that you can get the services you need without breaking the bank.
Conclusion
As with any business service, you should carefully consider the background verification company that you choose to work with. Be sure to avoid common mistakes like not doing enough research and failing to ask important questions before signing a contract.
By researching thoroughly, asking pertinent questions, and understanding the terms of the agreement, you can ensure that your choice of background verification company is one that will provide excellent services while safeguarding both parties involved in the transaction.