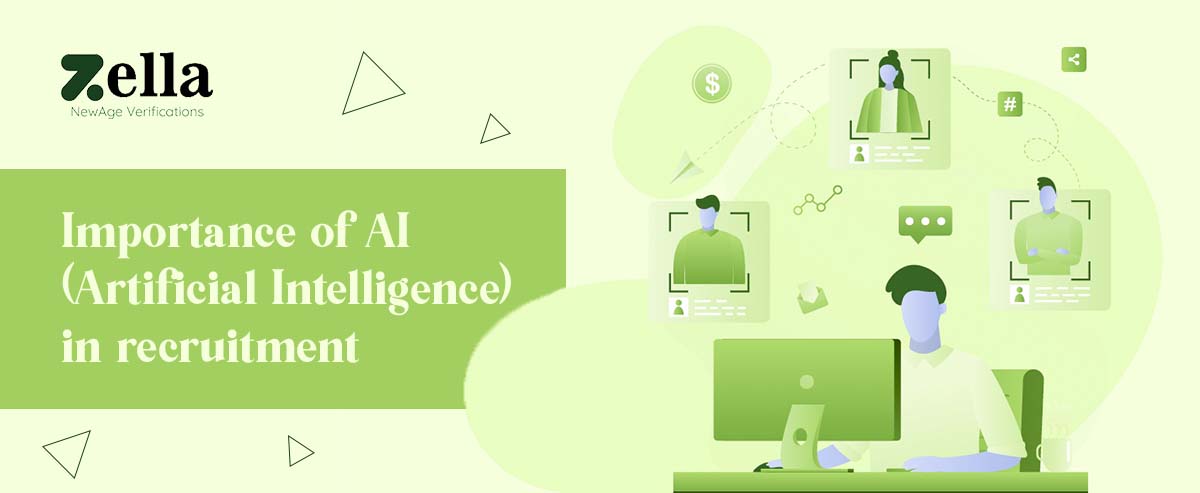 Importance of AI to Speed Up The Employee Onboarding
Onboarding is a compulsory procedure that introduces newly hired people or teams to the business, its services, and its product. The transition away from an office-remote-hybrid working environment has made it more difficult to keep up, manage, and develop an effective team.
In order to effectively attract, onboard, and retain employees across job areas and to keep the HR engine well-fueled to propel organizational growth, it is critical that HR procedures and systems be completely reinvented. AI in the hiring process has a significant role to play. The following are two crucial points to remember regarding AI-embedded solutions in the onboarding process:
AI can speed up talent recruiting, document exchanges, and the evaluation of newly appointed staff.

Gamification and cognitive analysis are two types of AI-powered processes that will always require human input.
Many professionals now rely on AI since it offers real advantages in processing speed, precision, and reliability (machines don't make mistakes when they're tired). For instance, some medical practitioners employ AI tools to help them make diagnostic and treatment decisions. By automating manual operations and employment screening, HR staff can stay focused on qualitative tasks in all areas of people management, including hiring and onboarding, employee engagement, and experience. Investments in data analytics, AI, and ML are paying off handsomely.
The Role of AI in HR 
AI is changing how businesses and organizations across sectors work, including how they hire new employees. Companies using AI for recruitment are currently streamlining talent acquisition in a number of ways, including:
Find and attract applicants

applicants' evaluation

Participation and onboarding of new staff
A company's onboarding procedures have a significant impact on the success of the firm. Furthermore, it may result in productivity gains of up to 70%. Numerous sectors and industries in our economy are being transformed by leveraging AI in recruitment in 2022. It could also be said that AI is essential to workplace effectiveness and resource efficiency. The use of AI, machine learning, and particularly supervised learning techniques in recruiting, talent acquisition, appraisal, and staff placement within organizations is quickly reaching a tipping point.
AI use cases in onboarding to keep on top of the game
Recruitment and verification
By quickly reviewing hundreds of databases and avoiding human errors, AI sourcing assists in attracting the right people, which eventually results in higher performance, lesser attrition, and a better ROI. Additionally, using tools like picture recognition and biometric authentication, AI in the hiring process helps in the real-time verification of employees. By reducing reliance on numerous follow-ups, physical papers, and presentations, AI-powered verification shortens onboarding TATs and enhances the onboarding experience.
Data analytics, documentation, and security
There are numerous ways to generate data. But in order to extract usable information from this data, it must be organized and analyzed. By automatically evaluating files and associating them with pertinent data, an AI-enabled document management system enables companies to take advantage of this data. By identifying sensitive and personally identifiable information, document management systems driven by AI employment screening provide improved document security so that users can handle the material with care.
Personalized training experiences that take into account the learning goals, learning preferences, and learning pace of employees can result in adaptive learning, which can improve productivity for both staff and clients. AI-based training platforms can recognise the employee's learning styles and preferences, supply training materials as needed, and provide a full picture of a worker's progress, challenges, and areas of strength.
Employee cooperation and involvement
Every new hire has a lot of inquiries, and responding to each one individually can be stressful. Chatbots that are powered by companies using AI for recruitment can answer questions and provide insight for HR departments. To take effective action regarding procedures that might be generally complex, these insights can be put to use.
Fraud detection onboarding
Due to virtual employment and remote work, employee moonlighting has become prominent. By implementing AI technologies like facial recognition and liveness monitoring into the onboarding procedures, an organization can prevent data leakage, conflict of interest, low productivity, and abuse of company resources.
Future of AI in recruitment- AI is revolutionizing the HR onboarding process.
Despite the fact that most technology specialists initially thought of artificial intelligence as a science fiction idea, the implementation of smart technology is profoundly transforming workplaces. Because these tools can assess, foresee, and diagnose issues to help HR professionals make informed decisions, using AI in HR procedures increases corporate efficiency. Here are the top 6 ways AI will be revolutionizing HR's employee onboarding procedures:
Intelligent digital forms for applicant biodata
You can collect, verify, and integrate data with the technology platform using smart digital interfaces. Making informed decisions, streamlining procedures, and cutting expenses are all made easier when vital data is easily accessible. Anyone with no technical or programming expertise can easily design and adapt these smart digital forms. They deliver precise data. Real-time data input minimizes the need to manually enter data, lowering the possibility of errors and data loss. Employers employ AI in recruitment 2022 to help candidates move their personal data from resumes to intelligent digital forms and submit applications more quickly.
Human Resource Management
AI is playing a critical role in integrating key HR activities, which is completely changing the history of the employee experience. It aims to set up talent processes to reduce employee turnover and handle significant areas such as manpower planning, reward systems, career pathing, workforce analytics, and virtual support.
Allows for quicker integration of new employees
Employees may be nervous to ask questions if onboarding is rushed. AI can be useful in reducing tension and increasing interest in these activities. Chatbots, for instance, can answer questions that new hires might feel uncomfortable asking about leave policy or remote work on their first day. If artificial intelligence (AI) can answer their questions, new hires will start feeling more at home in the workplace even before their official start date. To make it more enjoyable and engaging, this should typically be done through gamification. However, HR must not neglect the human aspect of onboarding in the effort to put more streamlined, effective procedures in place.
Employee referrals
Employee referral programs benefit from AI's study of the types of employees referred to them as well as its knowledge of who refers to the most productive employees. Based on historical performance data, AI can identify when skilled workers can suggest candidates who are similar to them.
Conclusion
A well-defined onboarding strategy can help HR departments stay ahead in the competition for talent. However, the precise implications vary depending on the industry and type of organization. No matter how the existing technology infrastructure may appear, it's essential to think about AI in the hiring process as a long-term plan and to make preparations for it. The most critical thing to take into account for organizations intending to employ AI is how well humans and technology collaborate to advance organizational goals in the best use cases of AI in HR.